CONTACT – The ISS contact was very succesful this morning with the exception of the You Tube live feed which did not work. We had about 9 minutes and the kids did a great job asking their questions. Thanks to al the voluteers and sponsors who made this happen.
There will be a news story on Channel 4 Denver at 5 PM tonight. If you don't get channel 4, it will be on their website later this evening.
There will aslo be a videos and pictures posted on the PCRC website later after the are edited.
Media Links: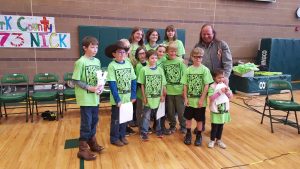 Thank you to all of the sponsors who made this possible
The Summit Foundation
Park County Government
Park County Radio Club & ARES
Park County Public Library
Friends of the Guffey Library
Fairplay Library Donation Fund
Friends of the Bailey Library
Friends of the Lake George Library
---
---

Park County Students to Communicate with Astronauts aboard the International Space Station
Fairplay Colorado – April 9, 2019 –The Park County Radio Club (PCRC) and the Park County Public Library (PCPL) today announced that April 15th at 11:15 a.m. is set for 13 Park County students to communicate with the Astronaut Nick Hague aboard the International Space Station using HAM radio. There will only be about a 10-minute window as the ISS passes over Park County. The ARISS (Amateur Radio on the International Space) event will take place at South Park High School in Fairplay, Colorado, 640 Hathaway St. The school assembly will begin at 10:00 AM

All public is invited. If you cannot make it here is a link that will live stream the event:

https://www.youtube.com/channel/UCOrlLJa4rUYuHRD4ce90ptA?view_as=subscriber
Through the Library's STEAM (Science, Technology Engineering, Arts, & Math) program, over 200 students of all ages have spent the last eight months learning about the physics of radio signals, different frequency bands and technology, radio propagation, antennas, equipment and proper operation of amateur (HAM) radios. Both home and public school students have participated in the program lead by Dan Kern, President of the Park County Radio Club and Pat Shepard (PCPL Manager).
After an extensive application process the Park County Radio Club was one of only 7 groups selected to communicate with the ISS in the first half of 2019. Only 13 students have been selected to ask specific questions of the astronauts after submitting their questions to NASA for approval.
Over the course of classes leading up to the event, several students and parents have been studying to obtain their HAM radio license. They will be testing over the next few months. Pat Shepard had also been studying and is now KEØTQT, a licensed amateur radio operator. A few of the schools have inquired about continuing the program with after school HAM radio programs.
Media is invited to attend.
Additional information about the Park County Radio Club can be found on their website at https://www.ab0pc.org/
Additional information about the Park County Public Library can be found on their website at https://parkcounty.colibraries.org/
Additional information about the ARISS program can be found on their website at http://www.ariss.org/
Contact information
Mike Borrego
Park County Radio Club
303-847-8976
Mike.borrego@ab0pc.org
Pat Shepard
Park County Libraries
719-836-4299
pshepard@parkco.us