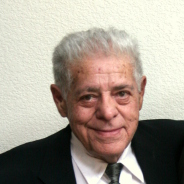 George received his license in 2000 (KCØIPC), and upgraded to Extra in 2002 (KØEZX). He was a regular on the weather net and an active supporter of the burro races for many years.
George had many interests, most important to him was the study and sharing of scripture. Other interests included fishing, gold panning, and oil and water color painting.
George is survived by 3 sons (George Jr., Dennis, and Anthony) and 3 daughters (Christine, Paula, and Laura), as well as 13 grandchildren and 8 great-grandchildren.