ARES® Region 2 District 3 Park County
The purposes for which R2D3 ARES® is organized are to provide disaster preparedness, reliable primary and secondary emergency communication links for governmental agencies and/or non-profit organizations when needed and supply mutual aid to other ARES® groups when requested;
Provide training of volunteers in amateur radio emergency services using Simulated Emergency Tests (SETS) and other appropriate training, as well as instruction of the public on subjects useful to the individual and beneficial to the community;
Solicit and raise funds to support and advance the programs and activities of R3D3 ARES®.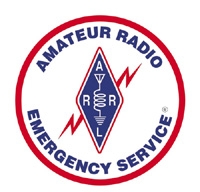 "MEMBERSHIP IN PCRC .. OR ANY OTHER CLUB .. IS NOT REQUIRED FOR MEMBERSHIP IN ARES."
ARRL Colorado Region 2 District 3 Amateur Radio Emergency Service (R2D3) is a 501(c)3 non-profit organization which covers Park County. R2D3 presently is made up of around 14 members with various skill levels and from several counties. Many are members of the Park County Radio Club, but that is not required. We have a Board of Directors that has formal training or special skills in various areas and the Board members are listed here.
Over the past several years R2D3 has been involved in a number of situations which called for communication back up, such as the "Buffalo Creek" fire in 1996, the "Alma situation" in 1998, the "Hi Meadow Fire" in 2000, the "Snaking", "Black Mountain", "Schoonover", and "Hayman" fires in the summer of 2002.
For the purpose of emergency communications R2D3 is installing a HF and VHF station at the Park County Communications Center in Fairplay.
For more information about ARES on the national level, visit the ARES information pages at the ARRL. http://www.arrl.org/ares
---
In accordance with Title 47 of the Code of Federal Regulations, Part 97 (47 CFR Part 97), usually referred to as simply "Part 97", the first purpose of Amateur Radio, as defined in Section 1, paragraph a, is "Recognition and enhancement of the value of the amateur service to the public as a voluntary noncommercial communication service, particularly with respect to providing emergency communications." Thus, participation in and enjoyment of the hobby of Amateur Radio includes a legal responsibility to provide emergency communications.
Membership and active participation in the Amateur Radio Emergency Service (ARES®), which is sponsored by the American Radio Relay League (ARRL), helps Amateur Radio operators to fulfill that legal obligation. The only qualification for membership in ARES, other than possession of an Amateur Radio license, is a sincere desire to serve.

"ARES" and "Amateur Radio Emergency Service" are registered servicemarks of the American Radio Relay League, Incorporated and are used by permission.
This website is hosted courtesy of Park County Radio Club, Inc.
This entire website copyright © 2005 – 2017 by ARRL Colorado Region 2 District 3 Amateur Radio Emergency Service